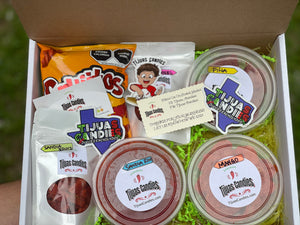 Tijuas Subscription Box
INTRODUCING SUBSCRIPTION BOXES!
If you love sweet and spicy treats this is a box you need! Tired of not knowing what to choose? Every month there will be a different theme to your box with different treats. Although we specialize in "dulces enchilados" we will also be including traditional Mexican snacks such as chips, peanuts, pastries and much more. With your renewal you will be able to explore the exotic snacks Mexico has to offer! Oh yeah, expect to get your hands on new products before anyone else! Your monthly box will always be VALUED OVER $40 RETAIL so get your finger tips on this SWEET/SPICY DEAL!!!